Solutions built for cannabis.
From cultivation to distribution, Hanwha Vision's products meet the unique challenges of keeping cannabis businesses secure and in compliance with regulatory requirements. All activity at cannabis facilities needs to be monitored, tracked, recorded and stored for regulatory compliance and in some cases investigative use. Hanwha Vision's wide array of IP camera solutions can address any cannabis security and surveillance need.

Meets or exceeds all industry standards and requirements for video surveillance
Cost saving multi-sensor and specialty devices and data compression technologies
AI-based video analytics to increase monitoring efficiency and reduce false alarm events
Multi-sensor/Multi-directional IP Cameras
Hanwha Vision dual-sensor multi-directional IP camera solutions eliminate the need for expensive multi-camera installations and include 2MP, 5MP, and 6MP selectable fixed lens, motorized varifocal, and AI equipped models. Each multi-sensor IP camera can be installed with a single cable and utilized with most VMS systems using just a single device recording license.
Eliminate Blind Spots with High-Resolution IP Fisheye Cameras
See a full-detail, 360° panoramic view of an entire room or area with a single camera. Fisheye cameras are a popular choice for cannabis facilities including dispensaries and cultivation facilities, as they provide excellent coverage to help eliminate blind spots and meet security requirements. Dewarping allows users to convert the fisheye image in multiple views and focus areas, resulting in cost savings as fewer cameras are required to monitor a given area.
Specialized Camera Kits and Accessories
Our 2MP remote-head cameras easily capture a subject's face and other critical information using modern housing designs that blend seamlessly into your environment.
2MP point-of-sale camera kit
Height-adjustable housing designed to capture faces at the checkout counter.
Pinhole height strip camera
Pinhole height strip camera can distinguish a subject's face and height when used in conjunction with another area camera device.
Door jamb lenses and lens housings
Strategically place Hanwha Vision's low-profile remote head camera lens modules and housings near entrances and exits, providing investigators and law enforcement with high-quality views of suspects' faces or any suspicious activity.
Wisenet AI Analytics
By being able to distinguish vehicles and humans from other objects, Wisenet cameras equipped with edge-based AI analytics reduce the occurrence of false alarms derived from the use of motion detection while increasing operational efficiencies in forensic review.
BestShot Feature
The BestShot feature takes a snapshot of detected objects and displays them onscreen in real time along with any captured metadata for easy identification.
Object Attribute Extraction
Humans and vehicles detected by the Wisenet AI algorithm are classified accordingly with a listing of detected attributes committed as searchable metadata.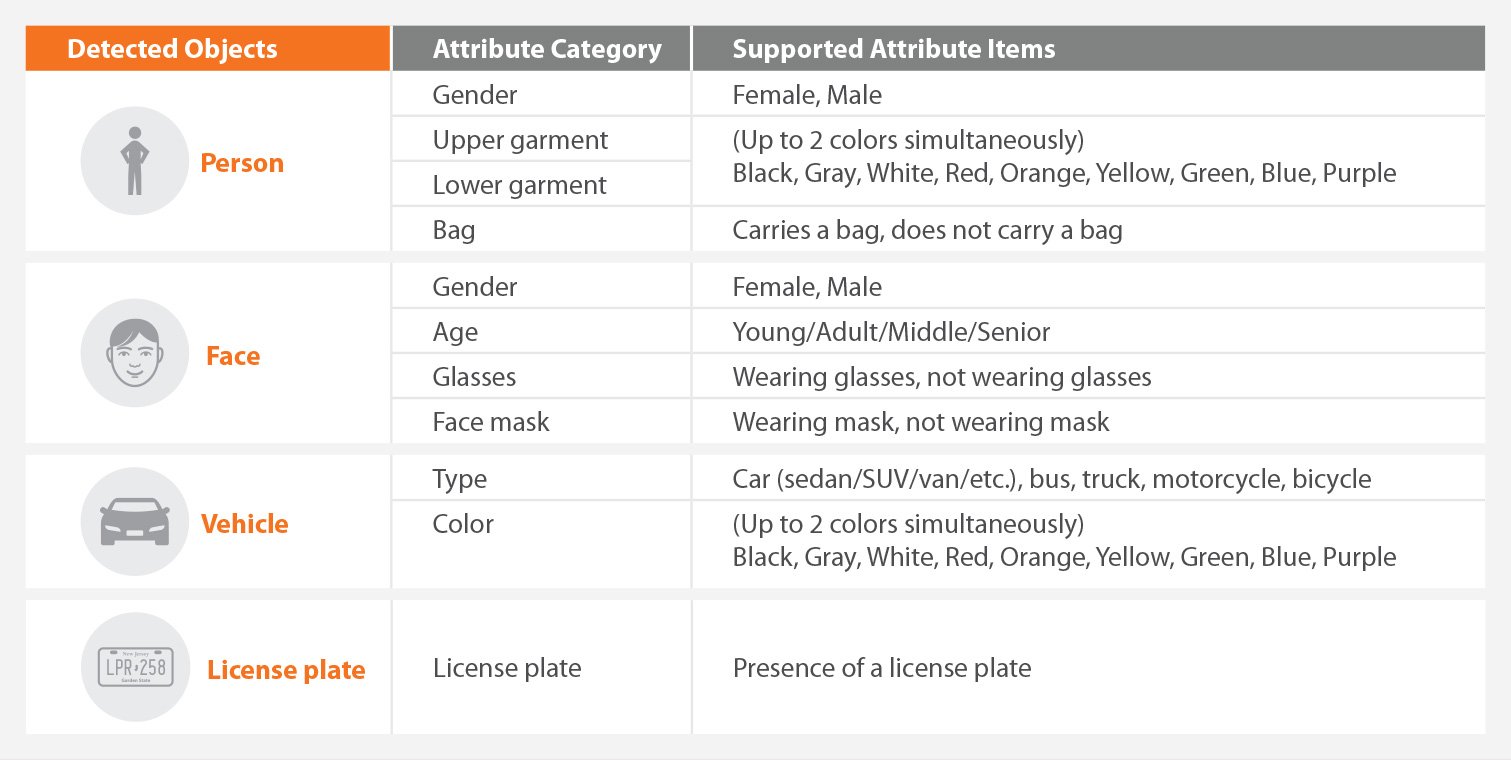 VMS Compatibility
Wisenet AI camera analytics are fully integrated into Wisenet WAVE VMS, Milestone XProtect, and Genetec Security center via the Hanwha Vision AI Camera Plug-in.
Edge-based license plate recognition solutions
Enhance your facility's security by logging vehicles by license plate number as they enter and exit parking or restricted areas. Hanwha Vision cameras with license plate recognition (LPR) technology are operational out of the box and fully integrated into Wisenet WAVE VMS and other popular video management systems and access control solutions.
License plate recognition (LPR) with supporting images
Efficient Smart Search
Insight and statistics dashboard
VMS Integration
Explosion-proof Cameras for Cannabis
Extraction Facilities
Extraction rooms containing flammable gases, like butane, must follow strict requirements on the types of cameras that can be installed. Our custom fitted explosion-proof housings are capable of operating safely in areas where traditional camera device designs may be unsuitable or pose a risk to safety.
Hanwha Vision explosion-proof camera features:
Up to 4K/8MP resolution
Class 1 Division 1 rated for compliance in cannabis extraction facilities
Sealed 316L stainless steel metal construction
IP66/67 ingress protection rating
Onboard advanced video analytics
360° endless pan rotation and 255 preset mode.
Up to 4K/8MP resolution
Class 1 Division 1 rated for compliance in cannabis extraction facilities
Sealed 316L stainless steel metal construction
IP66/67 ingress protection rating
Onboard advanced video analytics
Our lightweight and feature rich video management solution is capable of supporting up to 128 IP video streams per server and fully integrated with Wisenet NVR and IP camera video and audio analytics.
Easy setup – complete system install and configuration in minutes
Flexibility – drag and drop interface with resizable viewing panes for intuitive navigation
Compatibility – Full integration with Wisenet SUNAPI 2.0 device features and and analytics and other popular 3rd party devices
Reliability – Robust server hive architecture ensures continuous system uptime
Portability – Accessible from anywhere via WAVE Sync with mobile client applications
Accessibility – Add an unlimited number of users to a single system, each with custom or preset roles
Painless setup and installation.
Wisenet WAVE VMS is also available in preconfigured server and client devices in several form factors to meet the needs of your facility.
Wisenet SKY Cloud VMS offers users enterprise-level performance with easy deployment, remote management, and seamless integration with third party systems.
Enterprise Equipped – Optional Analytics
Exceptional Reliability – Redundant server storage and outage protection
Quick Deployment – No open ports or special configuration required
Secure Access – Two-factor authentication, video encryption at REST and in transit, and more
Advanced Optical Technologies
Wisenet camera devices feature recording resolutions of up to 4K, license-free video and audio analytics, eXtreme WDR with scene analysis, and best-in-class cybersecurity measures. Powering the updated line of Wisenet X series cameras, these capabilities are available in a variety of form factors that meet the challenges of even the toughest environments.
Vivid 4K Resolution
Hanwha Vision's F1.2 varifocal lens is implemented into the Wisenet 7 4K camera lineup, allowing the most light into the camera's sensor and producing clear and vivid images.
150dB eXtreme WDR with Scene Analysis technology
Hanwha Vision's improved multi-frame WDR technology lets you take full advantage of image contrast to see detailed objects clearly even in environments with strong backlight conditions.
AI-based Preferred Shutter Speed and WiseNR II
Optimizes shutter speed using AI object detection to reduce motion blur in scenes.
AI-based WiseNR II
Uses AI object tracking to greatly reduce image noise surrounding detected objects in low light conditions.
WiseStream III AI-based compression technology
Using edge-based AI object detection to identify humans and vehicles, Hanwha Vision's WiseStream III video compression technology ignores motion created by non-human and non-vehicle objects detected in the camera's field of view. This results in substantially decreased data transmission sizes from the camera over traditional motion detection based compression technologies, without losses in video quality.
Hanwha Vision Business Analytics
Every camera equipped with our license-free, built-in business analytics suite is a dual-purpose surveillance and business intelligence gathering machine – collecting visitor density and movements throughout your space and aggregating it into actionable data.
People counting: Provides statistical information based on individuals detected entering or exiting pre-defined areas.
Heat map: Evaluates retail traffic based on visitor density and length of stay.
Queue management: Alleviates long check-out lines by alerting staff when customers are waiting for longer than user-defined amounts of time.
Customizable analytics zones and event-based alarms
Edge-based video and audio analytics are included license-free onboard many Hanwha Vision camera models, helping to reduce the frequency of false alarms while increasing the efficiency of forensic review.
Face detection: Identifies key facial features and issues alerts when a face is present
Virtual line crossing detection: Triggers an alarm when objects are detected crossing a pre-defined virtual line or perimeter
Loitering detection: Triggers an event when an object enters and rests in a designated virtual zone
Intrusion detection: Triggers an event when movement is detected in a designated virtual zone
Enter/exit detection: Detection of objects entering or exiting a designated area
Appear/disappear detection: Detects the appearance or disappearance of an item in a designated virtual zone
Audio analytics: Detects and identifies the sound of explosions, gunshots, screams, and breaking glass
Secure by Default - UL CAP Certified Cybersecurity
With its own device certificate issuing system, Root CA, the Wisenet 7 camera lineup offers the highest levels of cybersecurity possible. Secure by Default, Hanwha Vision's cybersecurity policy, embeds unique certificates into all products during each step of the development and manufacturing process. This results in a cybersecurity policy that satisfies stringent UL CAP standards as well as our own requirements for product reliability and design.
Customer Stories
Putting our solutions into action.
Complete Cannabis Solutions Brochure
Let us help you choose the right products and services for your business.